Step 1: Log into your WHM >>Server Status >>Daily Process Log
Step 2: From the upper left, type into the search box, Server Status. In the options listed, there will be Daily Process Log.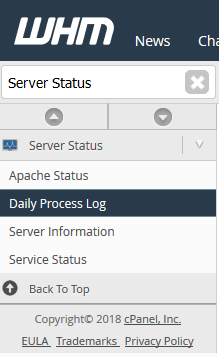 Step 3: Select Daily Process Log, and it will take you to a page where you can see more information about the processes that would run and the resources they use with cPanel / WHM.

Viewing The User List
On the Daily Process Log page, the first chart at the top will show a list of users on the server and the average resources that have been used by the user.

There will be several columns of information. Each can be used to identify the resource usage of the particular user.
User – This is the user on the server that was tracked through cPanel.
Domain – If the user is a cPanel account, the primary domain for the cPanel user will be displayed here. If it is a system account, this column will be blank.
% CPU – This will list the Daily Average CPU Percentage that the user has used. These values will be divided by the number of CPU Cores that your server has to represent what has been used accurately.
% MEM – This is the daily average percentage of Physical Memory (RAM) that has been used by the user on Average.
MySQL Processes – The average MySQL Processes that have been used for this user daily.
Top Processes List
The next chart further down the page will show the Top Processes that have been run on the server. This is particularly helpful in seeing what has caused the highest Resource usage on the server in the last day.